For many rental businesses, invoicing clients is the final step to getting paid for their products or services. Therefore, generating and efficiently sending invoices is essential to their bottom line. The best way to streamline this process is by using Booqable rental software, which includes an invoice generator, where you can quickly create and send invoices to clients.
By generating and sending invoices within your rental software, you can easily send them to clients and have them pay through your connected payment processor. Learn how to create, send, and update invoices and accept payments within your Booqable account.
What is a rental invoice?
Invoices are financial documents that outline the products or services your client has agreed to pay for. They will include an itemized list with prices and the total amount due, which can be the full amount or a security deposit. In specific rental niches, invoices are the most common form of billing a client, whereas others will accept payment at the time of booking.
For example, a client may ask for a quote for furniture and décor for their wedding. The rental business would then provide them with a proposal, and if they agree, they will follow up with an invoice. This is the amount the client is expected to pay within a specific timeframe to secure goods and services.
Start your rental business for just $29/month
Put your toes in the water and test the demand in your area with a rental website for just $29/month.
What should be included in a rental invoice?
Invoices are generally pretty straightforward, no matter what rental niche or the types of products or services that are being offered. Although, in Booqable product images are included so customers know what they're paying for, the essential elements invoices should include are:
Business and client names and contact information
The products or services being provided
The agreed rate for these products or services
The rental period and duration
The date the invoice was issued on
When payment is due now and later if a security deposit is required.
Booqable's invoice generator will automatically fill in this information from the information on the accompanying order. This makes it easy to create and send professional invoices to clients instantly. You can use the standard template or take it further by customizing exactly what information you want to appear on your invoices, as well as following best practices.
How to create invoices within Booqable
Generating an invoice within Booqable enables you to create and send invoices directly within your account to clients who have requested your products or services. Within the right sidebar of any order, you will be given the option to create and send a new invoice. Plus, if you update the order in the future, you can send an updated invoice with pre-paid costs deducted.
Automating invoice creation
Whenever you receive or create a new order within Booqable, you have the option to generate a new invoice. This invoice will automatically be filled with the information you and your client have provided. This saves time filling in invoices from scratch and allows you to process an order quickly. Not only that, but you can also be confident that customers are receiving a professional invoice.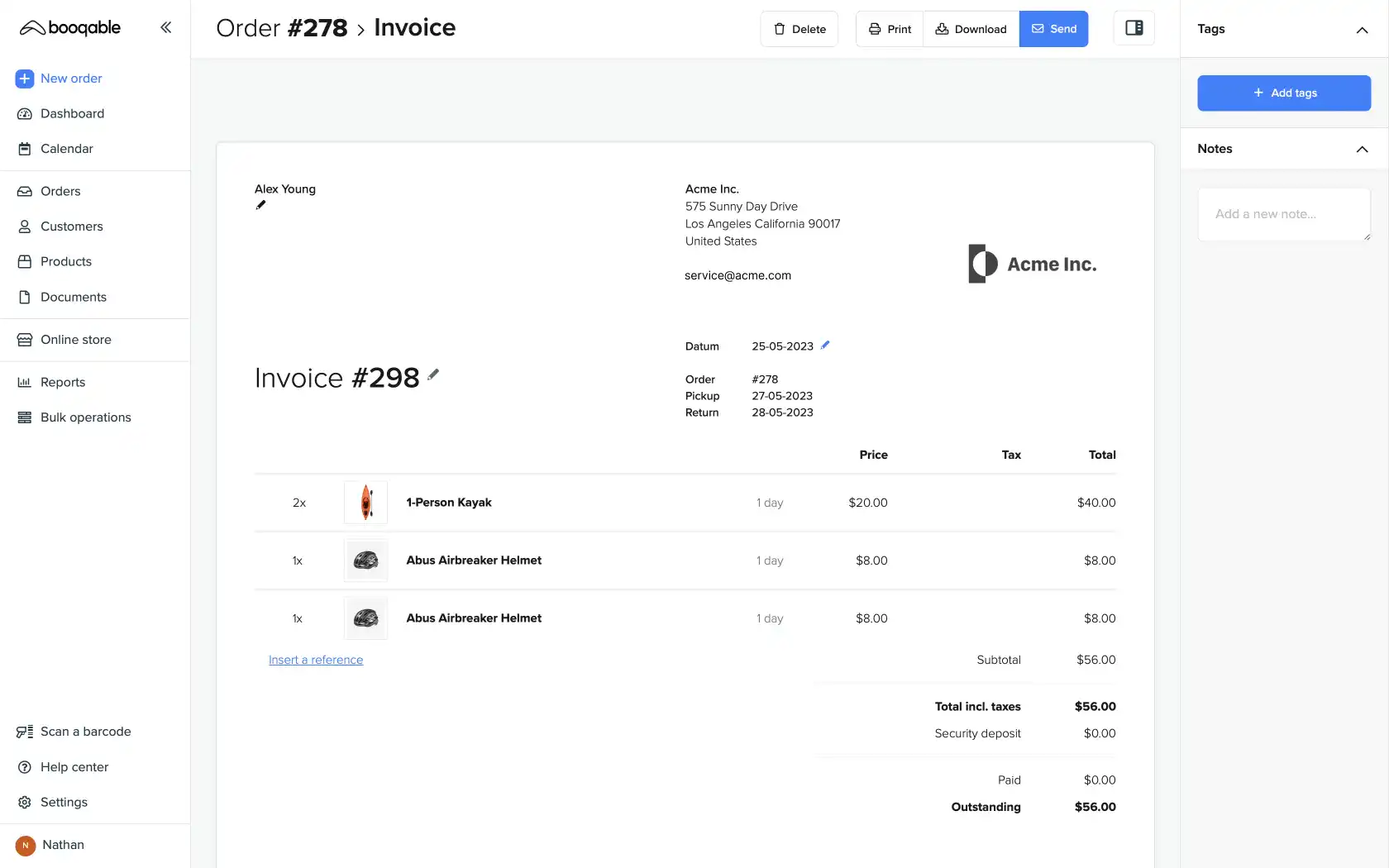 Managing invoice versions
When you first generate an invoice, it will be labeled as "Pro-forma," meaning it can still be updated. Once you finalize an invoice, it can be sent to a client. If you make an adjustment after finalizing an invoice, a new "Pro-forma" will be generated. You can then check that any payments made are deducted and finalize the updated invoice. You can also create credit invoices in case the order amount decreases.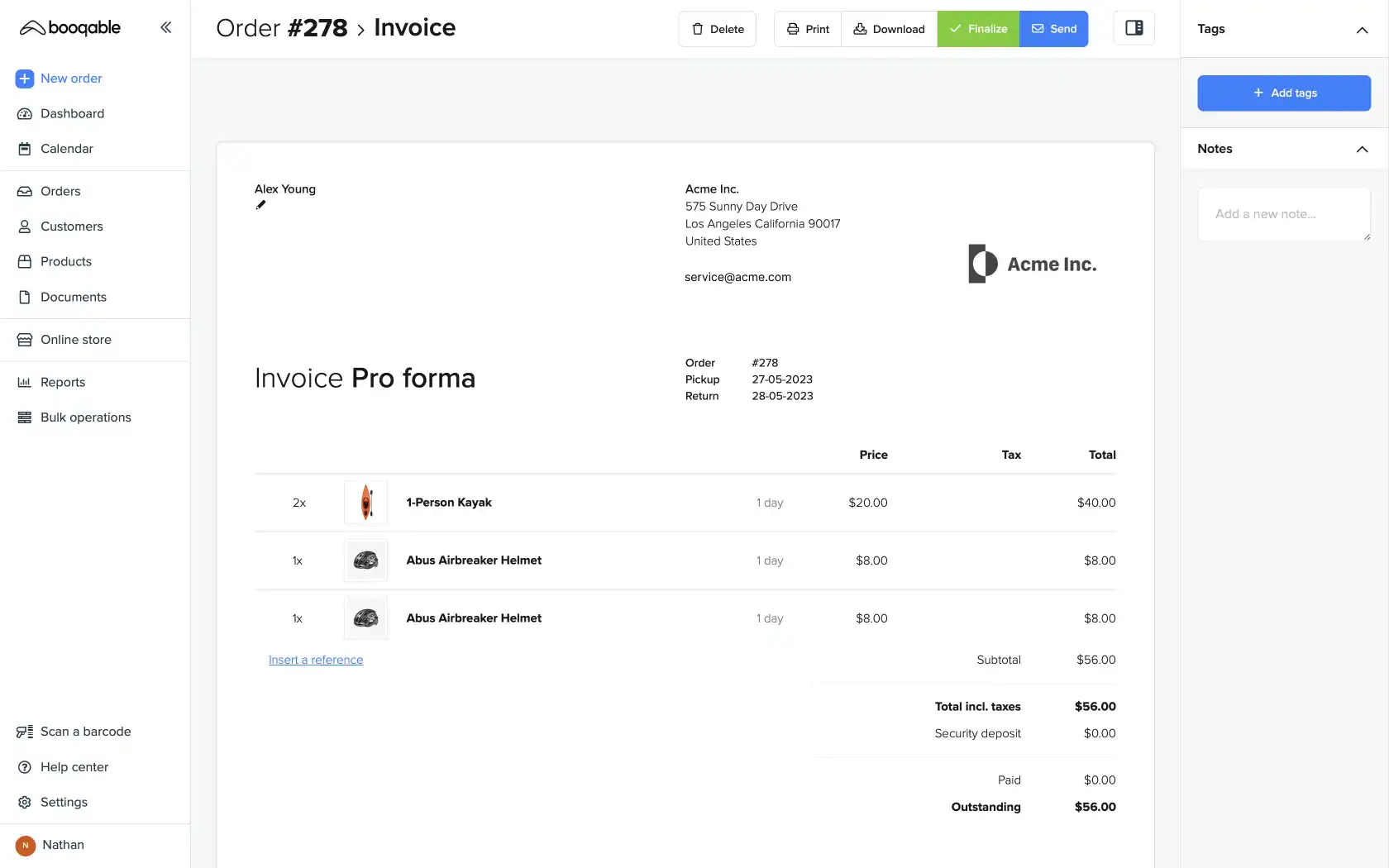 Sending invoices to clients
Once you're happy with an invoice, you can send it directly to the email address they provided from within Booqable. It can be accompanied by a manually typed email or a saved email template that automatically be filled with the customer information. This means that creating and sending emails can be done within just a couple of minutes.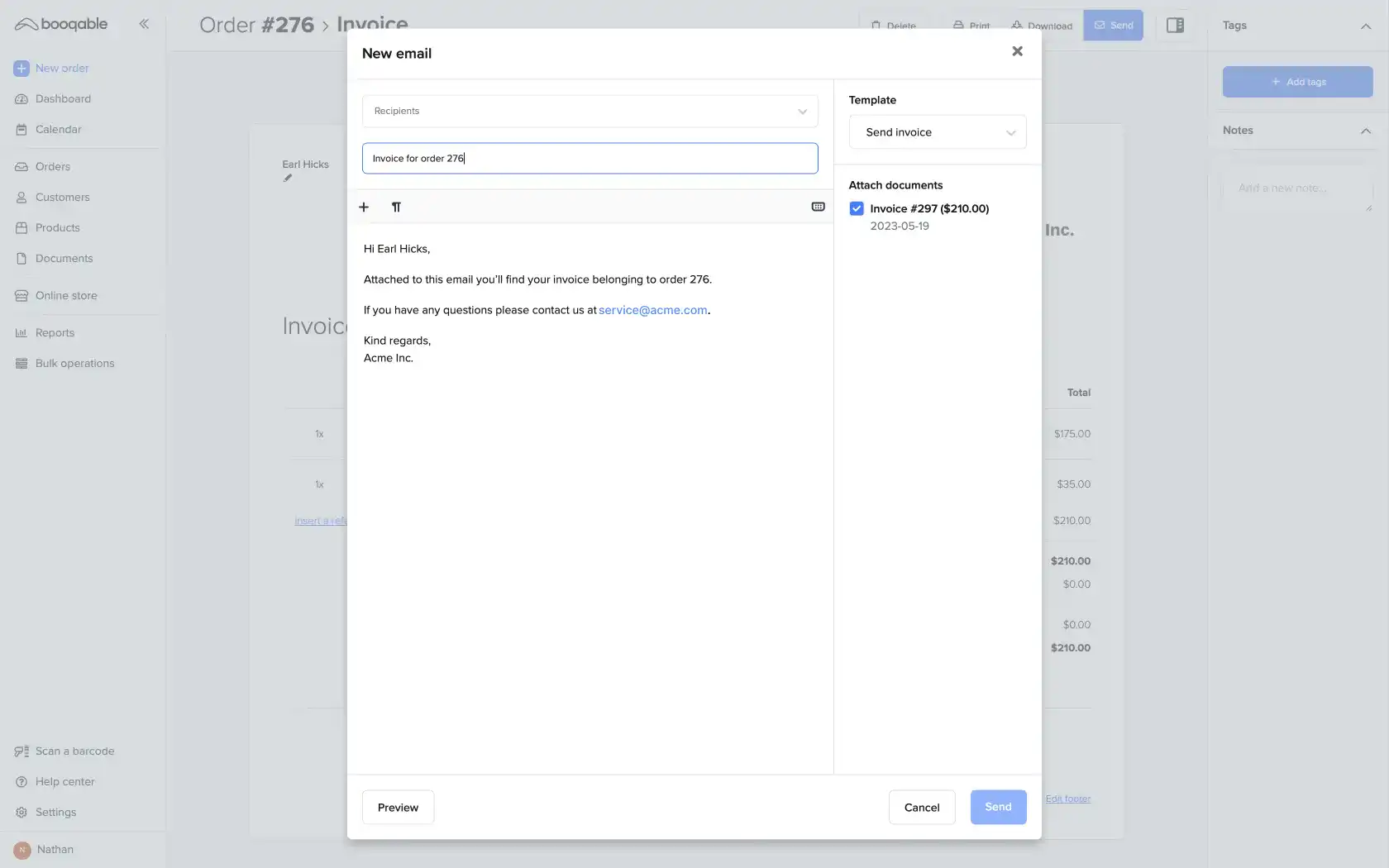 Start with building your rental website
Every new rental business starts with a website to get their first bookings.
Getting paid from invoices in Booqable
To get paid from invoices in Booqable, you need to connect a third-party payment processor to your account. You can choose either Stripe or PayPal, which provides secure payment services for you and your clients. You can generate and send a payment request link from an order in the same menu where you created your invoice.
If a client pays an invoice, the order's payment status will switch to paid automatically, without your interaction. You can also choose to ask clients just to pay a partial payment and pay the total amount at a later date. This makes it easier to manage payments and ensure that you get paid properly.
Centralizing your rental business tools with Booqable
Booqable allows you to stay organized and manage every aspect of your rental business in a straightforward system. Creating and sending invoices is one essential part of successfully running a rental company, alongside managing inventory, accepting online bookings, and monitoring performance. You can save both money and time by having these tools in one system.