Let's be honest: copy-pasting is tedious and time-consuming. So are other ways of transferring data, such as exporting CSV files and importing them in another app. If you're doing this several times per day or week, it's time to automate things.
Whether you know it or not, chances are you've already automated something. Do you get push notifications before calendar events? Or text alerts when you're about to receive a package? Or how about that email reminder for an upcoming meeting? These are all automation.
We all know automation saves us time and reduces the number of repetitive tasks during our workday. But if you're new to building them, you may think it's too technical and challenging to set up. Luckily, there's Zapier.
In this article, we're sharing some popular Zaps that rental business owners use to connect their favorite apps and automate repetitive tasks. Let's take a look.
What is Zapier?
Zapier is an automation tool that connects the apps and services you use to run your rental business. Zaps (automated workflows) automatically move data between more than 3,000 different web apps. Best of all, there's no code required to start creating your own automated workflows. It's easy for anyone to use.
In Zapier, each Zap consists of a trigger and one or more actions. It's similar to a simple "If this, then that" framework. When you set your Zap live, the action steps will run every time the trigger event happens. Let's see how Zapier explains it: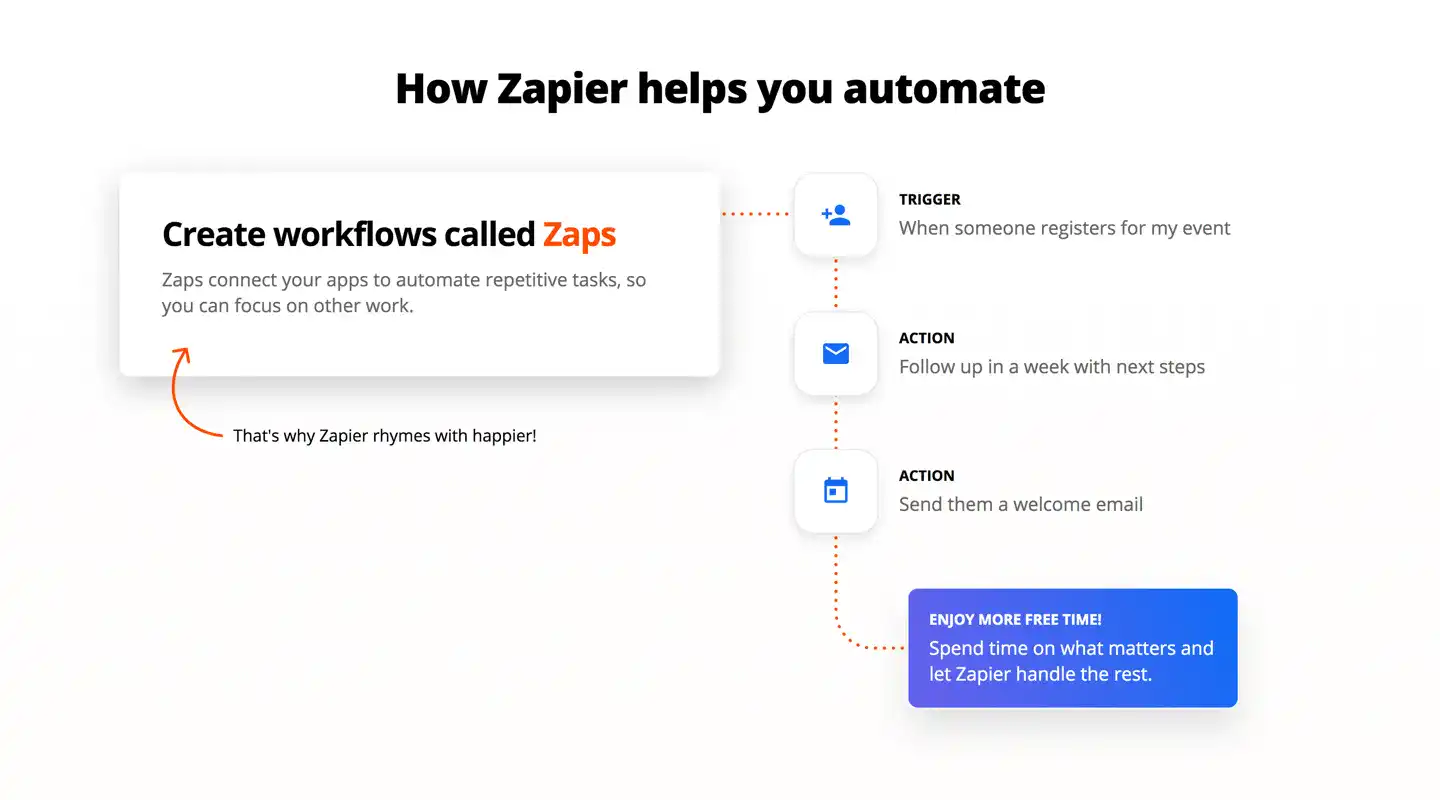 When you initially create your Zap trigger, Zapier attempts to find some data in your trigger app. This sample data can then be used as test data when setting up the action step later. This way, you know the automation works before you turn on your Zap.
Note: Zapier does have a free plan that lets you create up to five Zaps and automate up to 100 tasks per month. For some apps (and more Zaps and tasks), you'll need a paid subscriptions to use Zapier with Booqable.
Start your rental business for just $29/month
Put your toes in the water and test the demand in your area with a rental website for just $29/month.
Our favorite Zapier - Booqable integrations
Let's look at five easy ways to use Zapier and Booqable to automate some of your everyday tasks, including sending data into spreadsheet cells, adding customers to your email list, and adding reserved orders to your Google Calendar.
1. Route paid (or reserved) Booqable orders to a Google Sheets spreadsheet
There's an app for everything nowadays. But sometimes, all you really need is a spreadsheet to perform some basic (or advanced) analysis.
Google Sheets and Excel come with filters, formulas, and conditional formatting, making them the perfect tools for analyzing and sifting through large amounts of data. By logging information from Booqable on a spreadsheet, you can gain more in-depth insights from analyzing your order data.
While you can manually export your Booqable orders to CSV or Excel, Zapier allows you to automatically route all of your order data to a Google Sheets spreadsheet. The Zap makes sure your data is instantly available, without any manual work.
Start with building your rental website
Every new rental business starts with a website to get their first bookings.
2. Add new customers to your email marketing list

When a customer rents something, you may want to encourage them to come back in the future. The most popular way to do this is by adding them to your email marketing list and keeping them up to date with newsletters and other drip campaigns.
If you want to get creative, you can segment your customers based on the products they rented or how much revenue they generated. You can then use this data to segment your email list and personalize your marketing emails to send the most relevant message.
Zapier connects with dozens of email marketing and marketing automation tools, including:
ActiveCampaign
Mailchimp
Sendinblue
Autopilot
ConvertKit
When people place a booking, you can automatically add their email address to the list of your choice in your favorite marketing automation app.
Note: You can also use this workflow to connect Booqable to CRM software. Zapier integrates with HubSpot, Salesforce, Pipedrive, and many others.
3. Create a Google Calendar event for reserved Booqable orders

Google Calendar lets you keep tabs on your schedule, share events with colleagues and friends, and receive notifications for upcoming events. By connecting your calendar through Zapier, you can seamlessly add reserved Booqable orders to your Google Calendar.
By default, Google Calendar events have a name, date, and time, but there's a lot more you can add than that. There's the order number in Booqable, customer name, line items, pricing details, and much more. It's also possible to create events in shared calendars, which means you can easily keep your co-workers in the loop too.
4. Create invoices in your accounting software for new Booqable orders

If you're using a separate accounting app alongside Booqable, you might need a way to create invoices once you receive a new booking. By making a Zap for this, you don't have to generate each invoice yourself.
Although Booqable offers various accounting features for rental businesses, such as quotes, contracts, invoices, and revenue reports, you may already be relying on dedicated accounting software. In that case, you can use Zapier to auto-generate invoices in QuickBooks Online, Xero, Freshbooks, and other accounting apps.
Join thousands of rental business owners
In the last 12 months, hundreds of people have started their business with Booqable.
5. Send a daily digest of today's Booqable orders to your Gmail address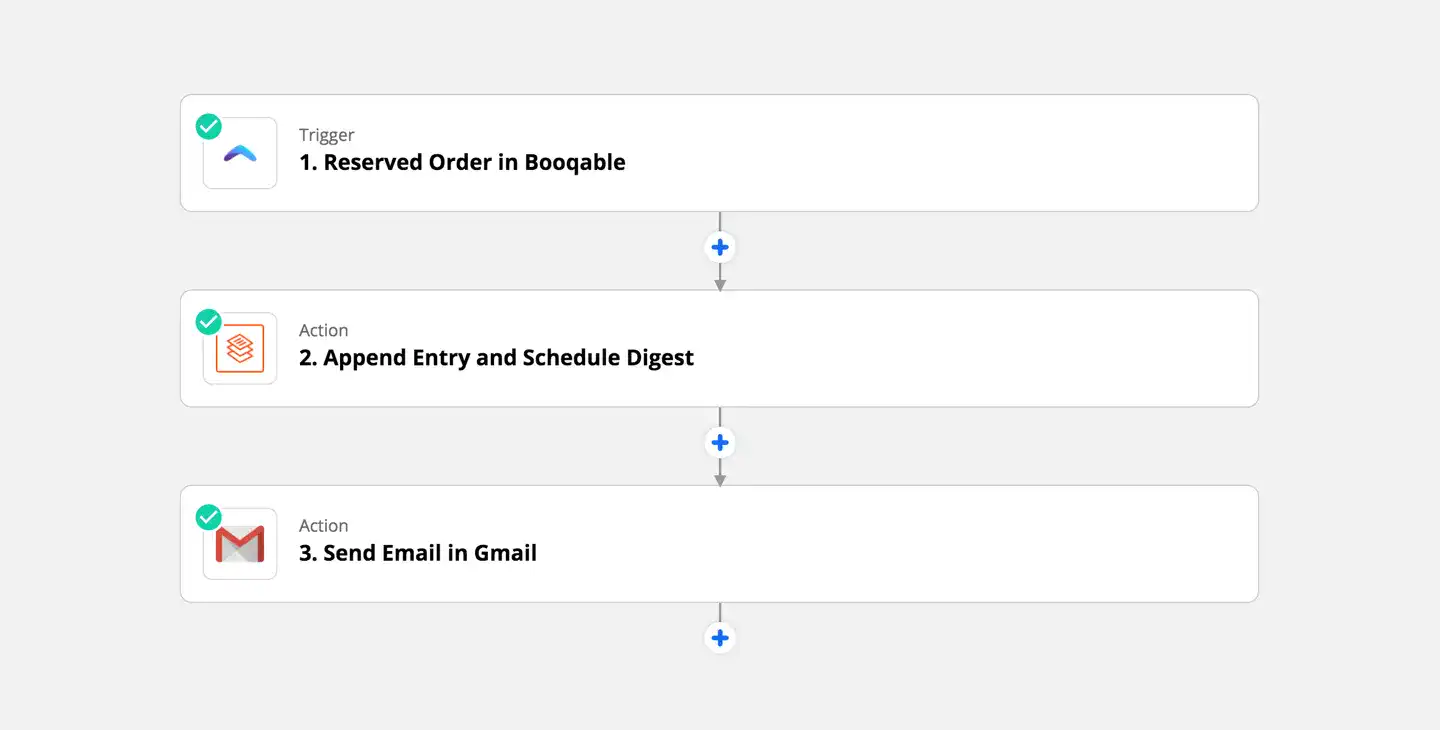 If you would like to receive a daily digest of your Booqable orders over email, you can use a Zap to queue your reserved orders and send them to your Gmail address.
Instead of having a Zap run for every event throughout the day, you can trigger them once a day, week, or month at a specific time. Perfect if you want a quick summary of today's pickups during your morning coffee.
Learn more about Digest by Zapier here.
Whatever systems you use to manage your rental business, Zapier can bridge the gap between Booqable and some of your favorite web apps. Create a Zapier account and explore how you can create time-saving automation for your rental operation.