Steger Beach Service
Location
Cape May, New Jersey
Key features used
Online Store

Inventory Management

Payment Integrations
Ninety years is a long time for any business to be active, and for a family-owned rental business, it is even rarer. However, Steger Beach Service is one of those unique companies that has stood the test of time and has been handed down from generation to generation. They started renting beach equipment during the great depression and are believed to be one of the first beach service companies in America.
We may think of seaside vacations as a typical pastime now, but 100 years ago, it wasn't such a common activity. During the great depression, people had to find cheaper ways to go on vacation with their families, and opportunity-seeking entrepreneurs were sure to capitalize on it. As a result, now beach vacations are enjoyed by millions worldwide, and beach equipment rental companies can be found at beaches everywhere.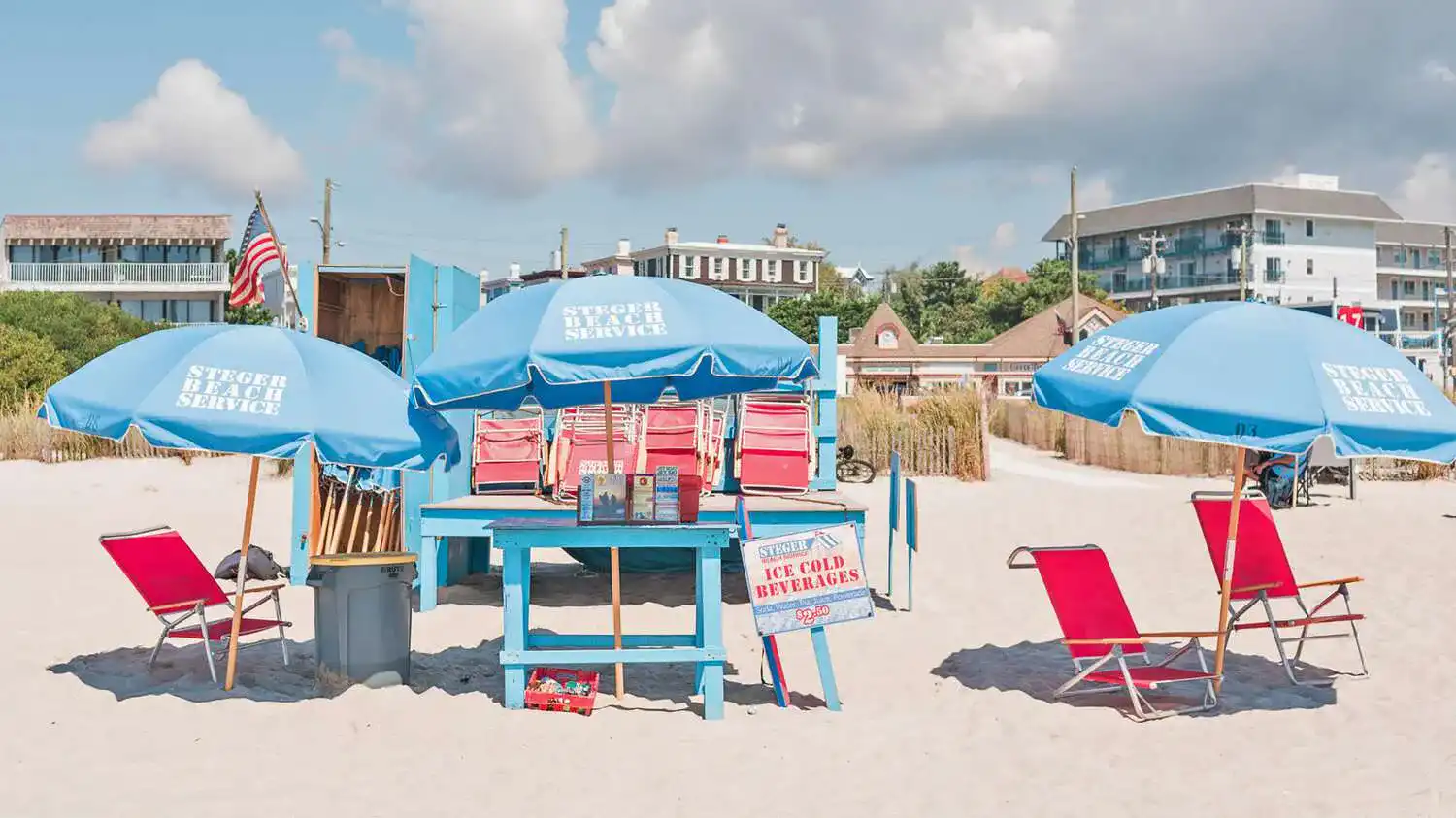 1.5x
Increase in bookings
100%
Reduction in double bookings
10hrs
Time saved every week
Steger Beach Service
Cape May-based Steger Beach Service is owned and run by Sean Steger, but it was founded by his great grandfather Steven J. Steger in 1933. He had been working as a lifeguard for many years before befriending the owner of Atlantic Bath Houses. Soon after, Steven officially bought the business and saw the beachfront building as an opportunity to service the growing number of tourists flocking to the seashore.
While the original business had been targeted at a more luxurious market, Steven saw the chance to transform it to cater to young families and couples visiting the beach. Unfortunately, a great summer storm hit the business during the first year they were operating, wiping out everything. He rebuilt it, and Steger Beach Service has been open ever since, being passed down from one generation to the next.
Cape May is known as "The Nation's oldest seaside resort in America," and Steger Beach Service is one of the nation's first beach rental service. In addition, the city and its beach have been named as a national historic landmark and have won numerous awards as a beautiful beach and town. We're sure Steven J. Steger played his role in the beach's achievements over the years.
Steger Beach Service offers an extensive range of beach equipment to their customers during the summer months. They include beach umbrellas, beach chairs, surfboards, stand-up paddleboards, bodyboards, Victorian beach cabanas, beach carts, and beach storage boxes. The cabanas and storage boxes are particularly special to them as they are unique and were built in Cape May during the great depression.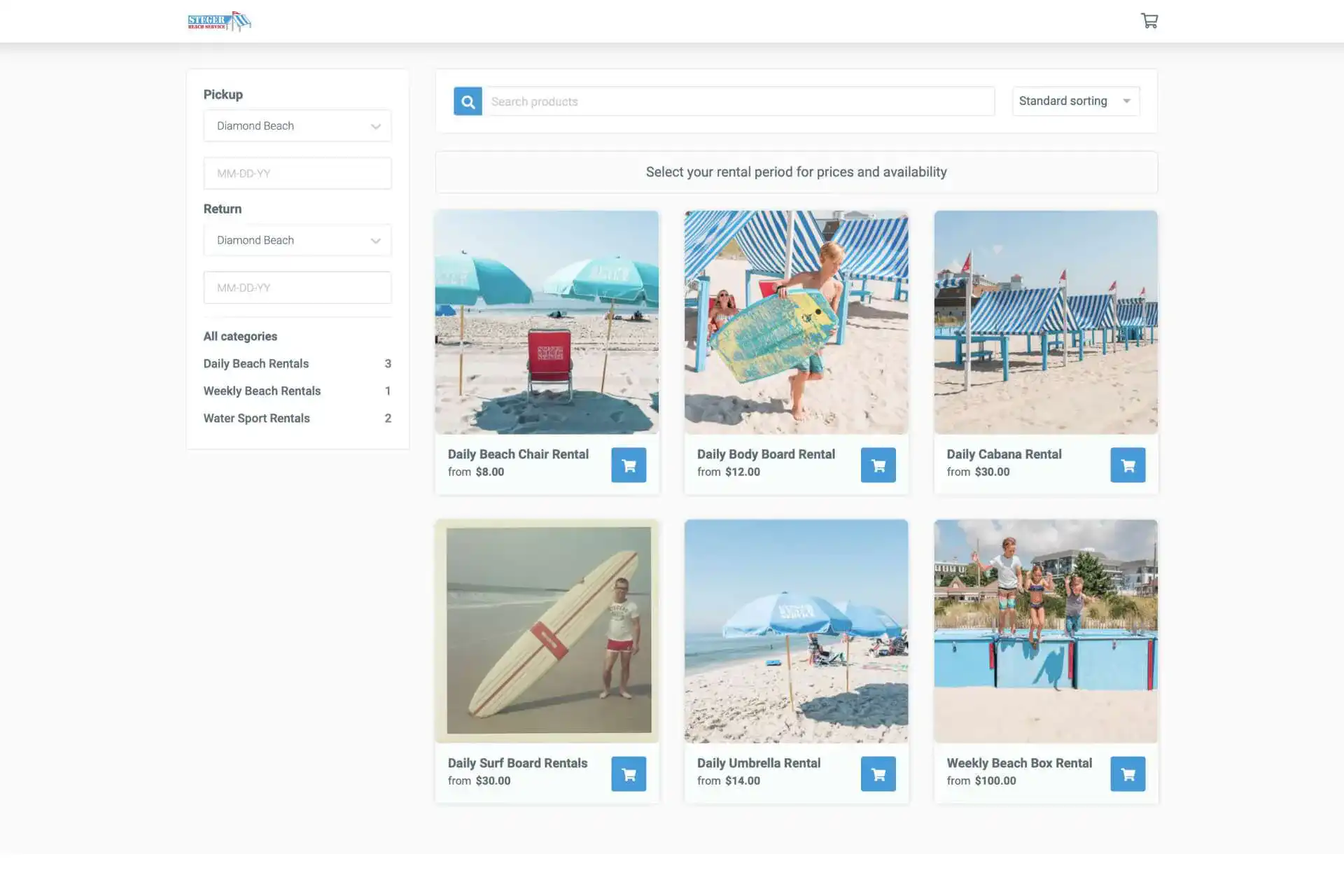 Sun, sea, and bookings
As a rental business founded during the great depression, they, of course, didn't have computers to manage bookings like we do today. They had developed their system of taking bookings over the phone and manually entering them into their folder while making payments over the phone. This system, of course, worked well before the digital age, but it wasn't without its quirks.
Steger Beach Service had struggled with keeping track of all of their reservations for some time, with some being missed or double booked. In addition, until six months ago, they had been using another software that needed to be updated manually and sometimes wouldn't save. This became particularly troublesome as reservations grew summer upon summer.
Finally, they took the initiative and sought out rental software to take online bookings and ensure they were all automatically updated in a central system. As a result, they now have a policy where customers need to book 48 hours in advance, and they're not worried about saving anything because it is done within Booqable.
I think rentals online have increased a lot and it has helped our company so much. Instead of taking payments over the phone or manually we encourage our customers to book everything right online.
Calm seas ahead
Since implementing Booqable, Steger Beach Service has experienced a transformation in its booking system. Sean Steger commented: "Everything is just so clean and easy to use for anyone." Instead of taking payments over the phone or manually, they now encourage customers to book everything online. This means nothing is missed, and every customer is left satisfied with their experience.
Sean particularly likes that every order is sent by email to his phone, so he sees each one as it comes in and can prepare appropriately. Their customers have also commented about how much easier it is to book online using Booqable and secure the equipment they want to rent quickly and easily. This has led to significant growth in sales and a great return on investment for Steger Beach Service.