Rømø Cykler
Key features used
Online Store

Barcode Scanning

Backoffice Management
Sometimes you can be surprised by how much software can change your business. This was the experience for Tom Maas when he started using Booqable for his bike rental store - Rømø Cykler. He has seen his business grow massively since implementing it to manage the back office and online rentals.
Often, it can be hard to introduce a new way of working into a business that has been around for a few years. However, when the new workflow is optimized and intuitive, it can be embraced and make a huge difference to the workplace. Booqable aims to help rental companies achieve this, and it's fair to say, with Rømø Cykler, this goal was achieved.
Rømø Cykler
In the Spring of 2009, Tom Maas started Rømø Cykler after several customers had asked about renting bikes at his previous workplace. He began with just six bicycles he rented out to locals on the Danish island of Rømø. However, once he realized how viable a bike rental business could be, he expanded with more bikes and equipment.
More than ten years later, he has roughly 500 bicycles that he rents out. But, of course, growing to this level didn't come without its fair share of obstacles along the way. For a long time, reservations were handled through walk-ins, over the phone, and by email. Moreover, they were kept track of in a paper agenda which left the potential for mistakes relatively big.
In addition, although the company's website did have an online booking system, it wasn't synchronized with their inventory. These reservations would then be transferred to Excel spreadsheets and the paper agenda. However, you can probably see why this workflow wasn't the best, especially during the summer season.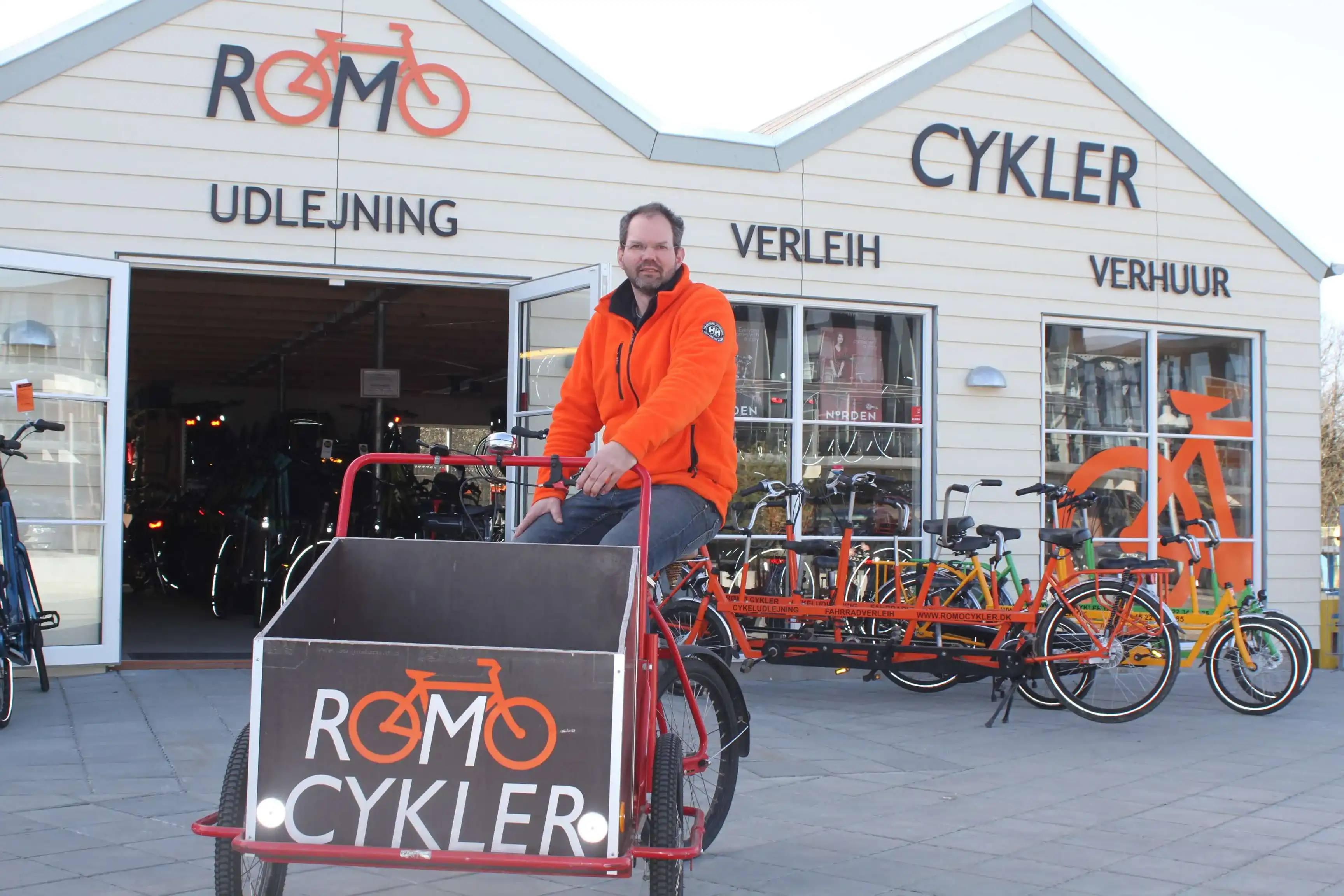 Adapting seamlessly
Tom had realized that he needed rental software, and during his search, he came across Booqable. Before becoming the spine of their rental operation, it was introduced into their workflow step-by-step. First, they started with walk-in rentals, where it is used as a POS system for staff to process in-store bookings.
Once the staff was confident using it, it was rolled out to manage bookings made via each channel. It allowed the team to have an overview of what was rented out, how much money was spent and when products were going to be picked up. Implementing Booqable into the backend of Rømø Cykler proved to be seamless and easy to adapt to.
Finally, online bookings through their website were implemented to bring everything together. Once it was integrated, their customers quickly adopted it, and it continues to grow massively. In addition, Tom notes that "a large part of our costumers make their online bookings months upfront, which helps us a lot to spread out our cashflow during those quiet winter months."
The final piece of the puzzle
For many years, Tom had wished to scan barcodes on equipment to avoid errors. However, it had always seemed quite a daunting task with many obstacles to implementation. That was until Booqable introduced the barcode scanning feature. Tom recalls thinking, "it couldn't be that simple, but nothing turned out to be less true than that."
The most significant part of the process was designing and printing barcodes, but the implementation was otherwise quite simple. At the start of the summer season, his staff began adding barcode stickers to all of their bicycles, and within one to two weeks, it was complete. Tom said, "We only could wish we had done this years before."
With that, the workflow optimization at Rømø Cykler was complete and renting, and returning bicycles suddenly became much faster. Not only is it much easier to manage rentals and inventory in the backend, but they were also able to achieve a more professional process that their customers much appreciate.
Discover how to create and import barcodes
Learn more about creating and using barcodes with your products.