Cycle Sierra Nevada
Key features used
Squarespace Integration

Online Payments

Payment Requests
Booqable is thrilled to be working with Cycle Sierra Nevada, an official BMC bike hire center in Granada, Spain. Booqable helps them keep their rental operation running smoothly throughout the seasons with simple solutions and a seamless Squarespace integration.
As an official BMC bike hire center, Cycle Sierra Nevada offers premium rental bikes, tours, and camps in Granada, Almunecar, and Nerja. Thanks to well-surfaced roads, excellent climbs, and beautiful weather, it's not surprising that the Sierra Nevada has grown in popularity among cyclists worldwide.
The region offers the perfect conditions for cycling holidays with friends and family. Meanwhile, considering the number of pros who choose the region as their training location proves how good the conditions are—even more so as the climate cools down in autumn and temperatures drop to a more comfortable level.
Cycle Sierra Nevada, Est. 2013
Cormac Keeney, who started the company in 2013, manages the business on a day-to-day basis. With almost a decade of experience in the rental industry and being a professional cyclist himself, he knows what his customers want.
Cycle Sierra Nevada is quite unique because they stock a complete selection of high-end road, gravel, MTB, and e-bikes, along with scholarship options, cycling camps, and accommodation to ensure customers are getting the most out of their stay.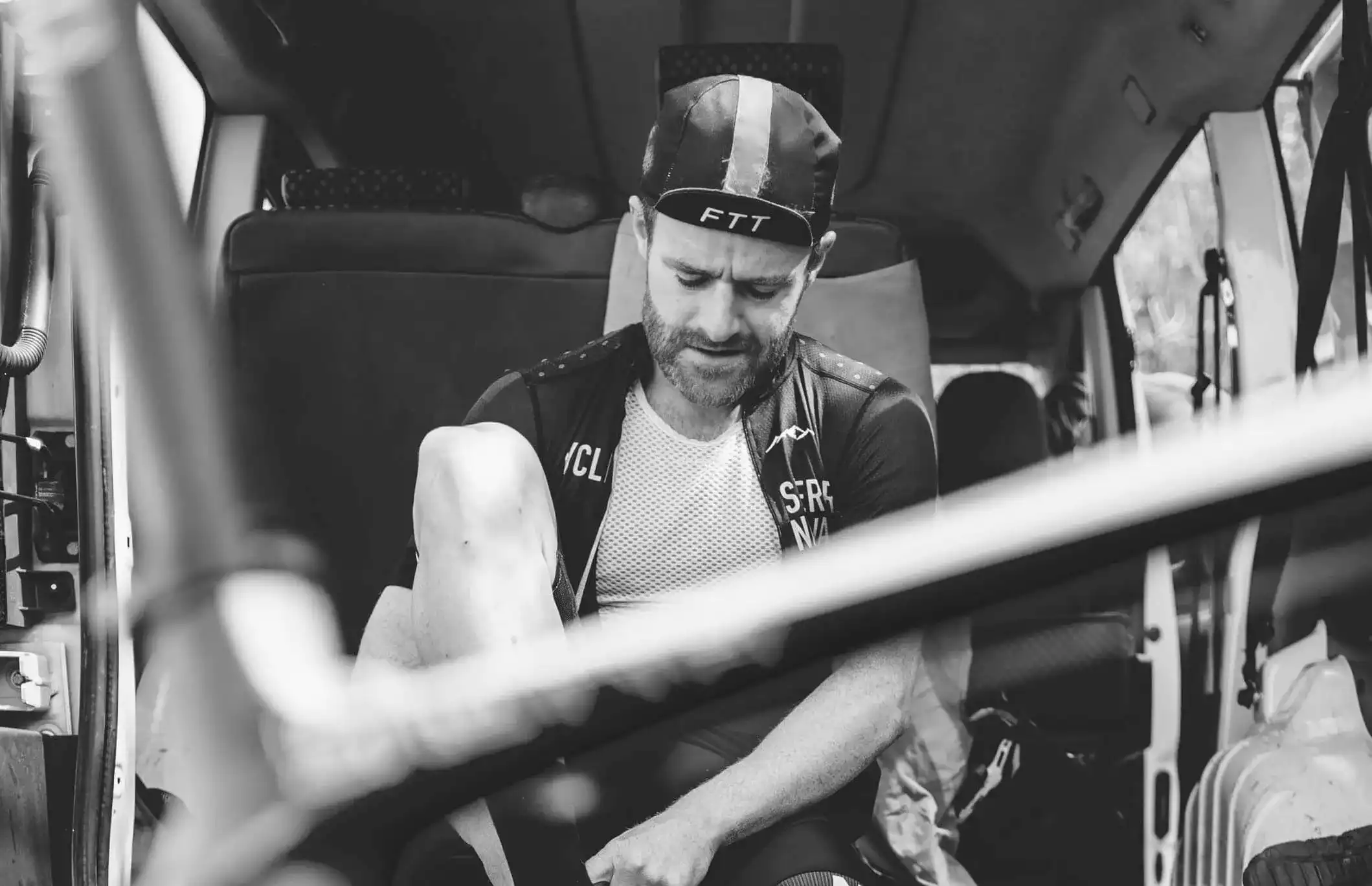 Thanks to their partnership with BMC, Cormac is able to stock their newest models as they are released. Giving his customers access to the latest equipment makes Cycle Sierra Nevada different and has resulted in a loyal, recurring customer base.
Enhancing the online rental experience
Before they found Booqable, Cycle Sierra Nevada exclusively accepted bookings by phone, email, and contact forms on their website. These channels weren't just inconvenient for customers but also resulted in too much manual work, especially during high season.
That's why they wanted to give customers the opportunity to book rental bikes online. As customers booked in advance, the team also wanted a system that kept their inventory up-to-date, regardless through which channels reservations would come in.
Having such a system in place became even more critical as the number of rentals increased, and the company continued to grow.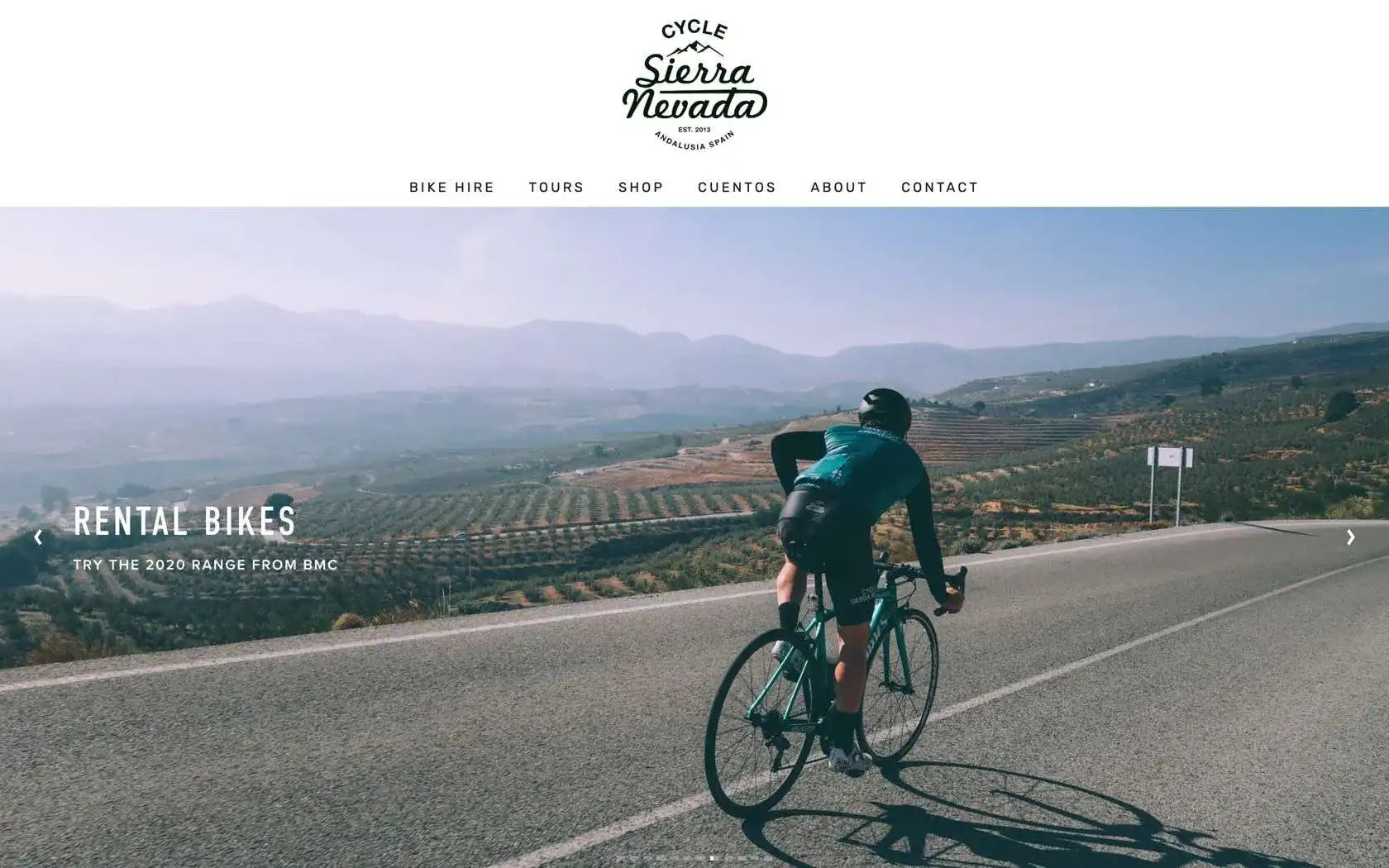 To give visitors the smoothest experience, their new rental system had to integrate seamlessly with Squarespace, be simple to set up, and intuitive for both customers and staff.
To create the smoothest experience possible, date selection had to be effortless, and actions like choosing the frame size needed to be as straightforward as possible.
Finding a simple, innovative solution
During the summer of 2019, Cycle Sierra Nevada chose Booqable as the solution for their needs. After fine-tuning the Squarespace integration and setting up their inventory, customers could book online with real-time availability, and no longer had to pick up the phone.
They can now compare different bikes more easily, get instant feedback about availability and pricing, and complete the checkout process without any obstacles.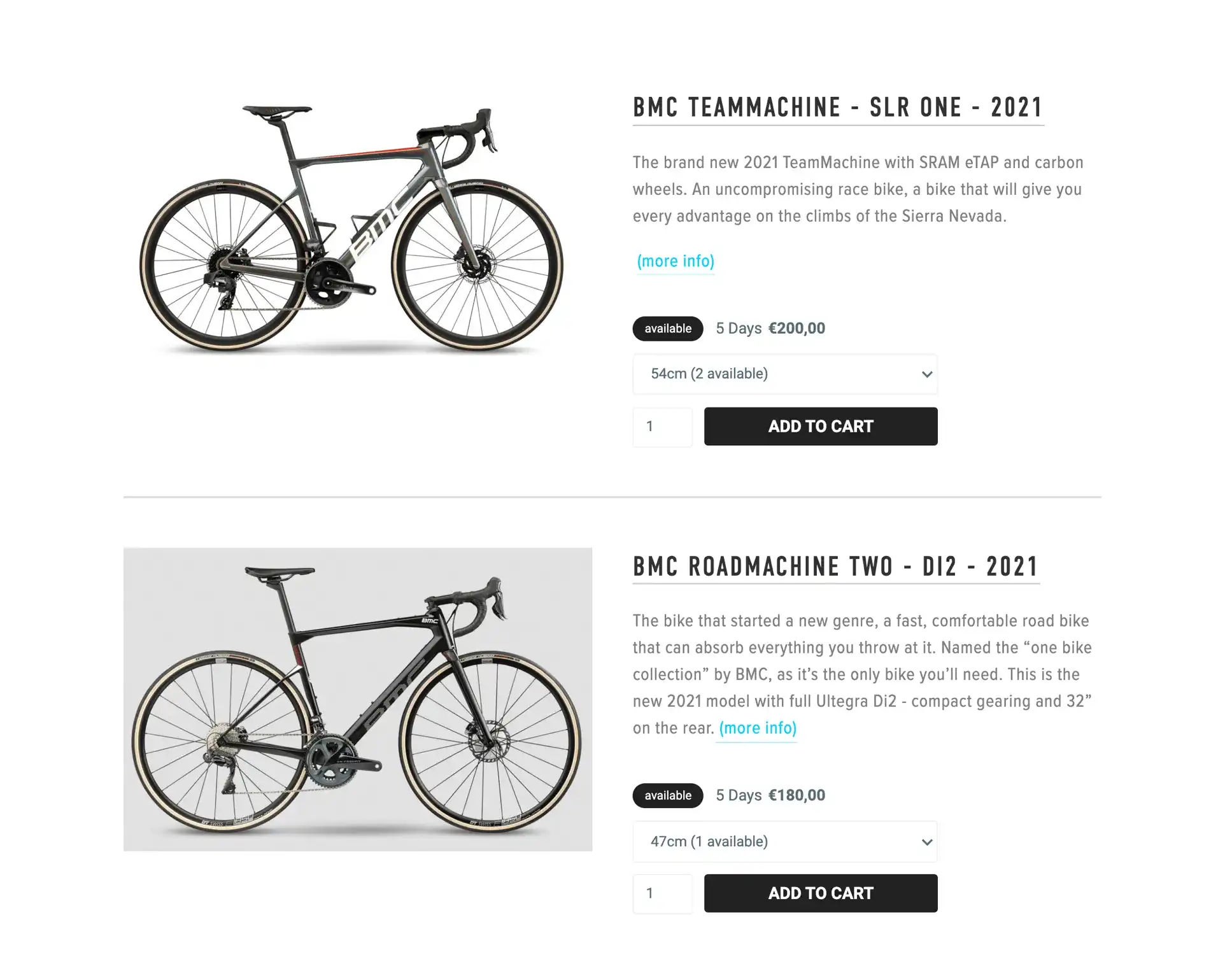 Cycle Sierra Nevada now uses Booqable to manage all bookings and keep track of their rental bikes. Another feature they use is payment requests, which makes accepting payments as simple as generating a payment link and sharing it with customers via email, SMS, or other messaging apps.
Since partnering up with Booqable, Cycle Sierra Nevada's rental operation has improved. These are some of the most notable results Cormac and his team have experienced:
👉 Managing the rental operation now requires fewer man-hours thanks to the automated online booking process.
👉 They now have a clear overview of their bike rental inventory without worrying about double bookings, and can easily replace old stock with the latest BMC models.
👉 Customers can now pay twice as fast thanks to payment requests, and the company no longer needs to send reminders.
We're excited to keep working with Cycle Sierra Nevada and look forward to helping them — and other rental stores — provide first-class rental experiences in the future.
Photography: Cycle Sierra Nevada
Discover how you can create an online store with Squarespace
Learn more about integrating Booqable with your Squarespace website.