Lightchasers Rentals
Location
Christchurch, New Zealand
Key features used
Online Store

Inventory Management

Product Bundles
Craig Forster started Lightchasers Rentals four years ago when his daughter was born. After being a filmmaker and photographer for about 15 years, he had built up a collection of cameras and lenses, which he decided to start renting out.
Initially, he was getting orders via text and email, but as his camera rental business grew, he had to find a better way to accept bookings, and he came across Booqable.
As you will know, the film and photography industry is big right now, and people need professional equipment to create this content. Everyone from student filmmakers to professional cinematographers is always looking for easy and affordable gear to rent. So, businesses like Craig's are booming, which means effective inventory management is more crucial than ever.
Lightchasers Rentals
Lightchasers Rentals was founded in 2017 by Craig Forster, who had recently celebrated the birth of his daughter. Following her birth, he took some time off work to raise her and wasn't using his camera equipment.
He had built his collection throughout a 15-year career, so he had everything budding film and photography buffs could ask for. He decided that rather than letting his collection collect dust, he would start his own camera rental business so others could benefit from them. Over a few years, he built his business, and it became very successful. His inventory now consists of a wide selection of cameras, lenses, tripods, audio equipment, along with gimbals, batteries, and lighting.
Throughout this time, he had been a stay-at-home dad raising his daughter. Eventually, he decided it was time for him to get back to his passion and start shooting again. To continue the operations of his rental business, he brought in someone else, and they decided it was time to implement proper software for managing the rental process.
After comparing different solutions, they found that Booqable did everything they needed, and it became the central system that the business relies on every day.
From manual to semi-autonomous
For many years, Craig had run his business through texts and emails. Customers would ask him for specific equipment and the days they wanted to hire it. He would check his calendar, calculate pricing, and await a response. Once the customer confirmed the booking, he would create a calendar event and send an invoice from his accounting software before confirming the pickup date (all while trying not to wake his baby).
Of course, this process was quite laborious, and once he brought in help for the business, it was clear that they needed a proper system. Now, rather than having to do the process manually, the majority is done through Booqable, as Craig explains:
"Booqable does so much of what we need. Customers can browse through the equipment list, see what's still available for the dates they need it for, reserve it, and pay online. We can create a packing slip for every order being collected in the next 24 hours, pack and have everything ready."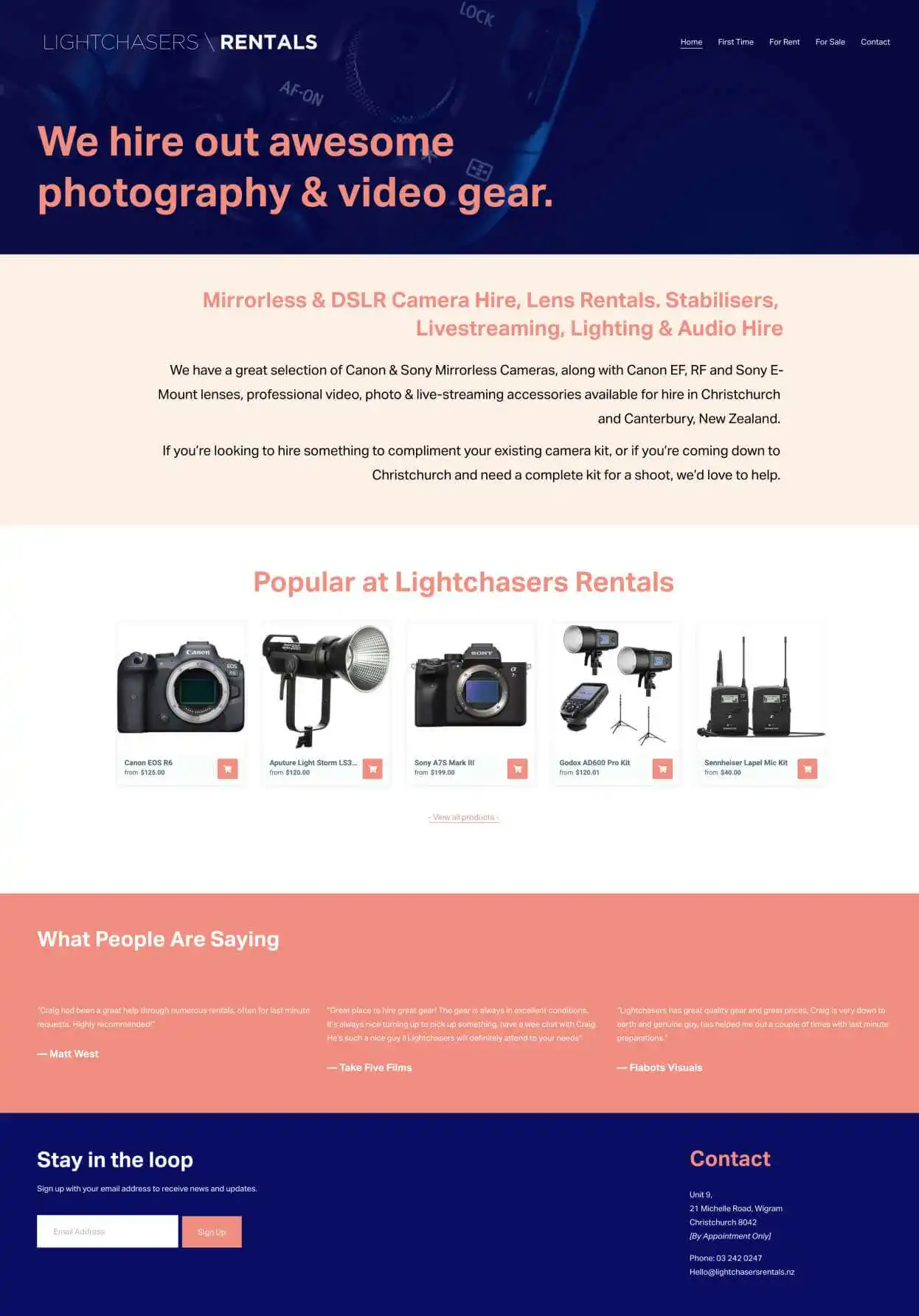 Lights, camera, action
Since using Booqable, Craig has been thrilled to offer customers the online experience they expect from a modern camera rental business. It seamlessly integrates into his website, creates a smooth rental process for his customers, and led to overwhelmingly positive feedback.
Over the past few months, Lightchasers Rentals has been able to move forward with other ventures. Along with the outstanding range of equipment they offer, they have built a studio with a 5m cyclorama wall that customers can rent. They also use it for events like lighting training and other skills aspiring photographers may want to learn.
Craig believes that having good rental software in place is essential to running a successful business. At Booqable, we're also firm believers of the impact the right software can have, and it's the reason why we're so proud to offer our product to clients like Craig to help their operations run smoothly.