Cirkel Supply Co.
Industry
Ski Clothing Rental
Key features used
Online Bookings

Inventory Management

Payments
Three skiing enthusiasts came together to create Cirkel Supply Co., a winter sports clothing rental company. Their goal is to improve the experience of renting ski clothing and bring snow apparel into the circular economy at a higher level. They chose Booqable as the backend and online store to test their MVP and are now using it to scale for their big commercial launch.
Ski clothing is yet to be disrupted by the circular economy, but it is set to outperform fashion in the coming years. As the products are highly-durable and light-usage, they are ripe for rental. There are other companies offering snow apparel, but in the past, it has been old and cheap. However, only some, if any, have targeted high-end clothing people want to use.
The lower cost of entry for those looking to explore new challenges in the mountains and increased accessibility has very positive side effects of a society more engaged with nature and less demanding on our planet's resources.
Cirkel Supply Co.
Cirkel Supply Co. started when Anders Bergenstrand and Per Berthels wanted to improve the linear model of outdoor retail. Each brought strengths to the business with Anders' analytical mind and Per's out-of-the-box thinking. In late 2021, they met professional skier Anna Smoothy, who was looking for a circular business project to finish her MBA and the team was complete.
Over 60% of the 60 million Europeans who ski each year already rent skis and boots, indicating they don't ski often enough to justify ownership. In addition, the linear model means 10 jacket sales = 10 happy customers, but in rental, it could mean 150 to 300 happy customers. Anna's project proved the environmental potential of the circular economy model for ski clothing.
With this information, the trio decided to rent out durable products that have a high retail price and light consumer usage from brands like Patagonia, Houdini, Picture Organic, Ortovox, and Hestra. This lowers the cost barrier for those looking to get into skiing which increases access—allowing more people to engage with nature while reducing the environmental impact.
In addition, their convenient service delivers directly to tourist destinations in the Swiss Alps. This enables those occasional adventurers to reduce the stuff they need to own, which reduces the overproduction of goods in the outdoor industry.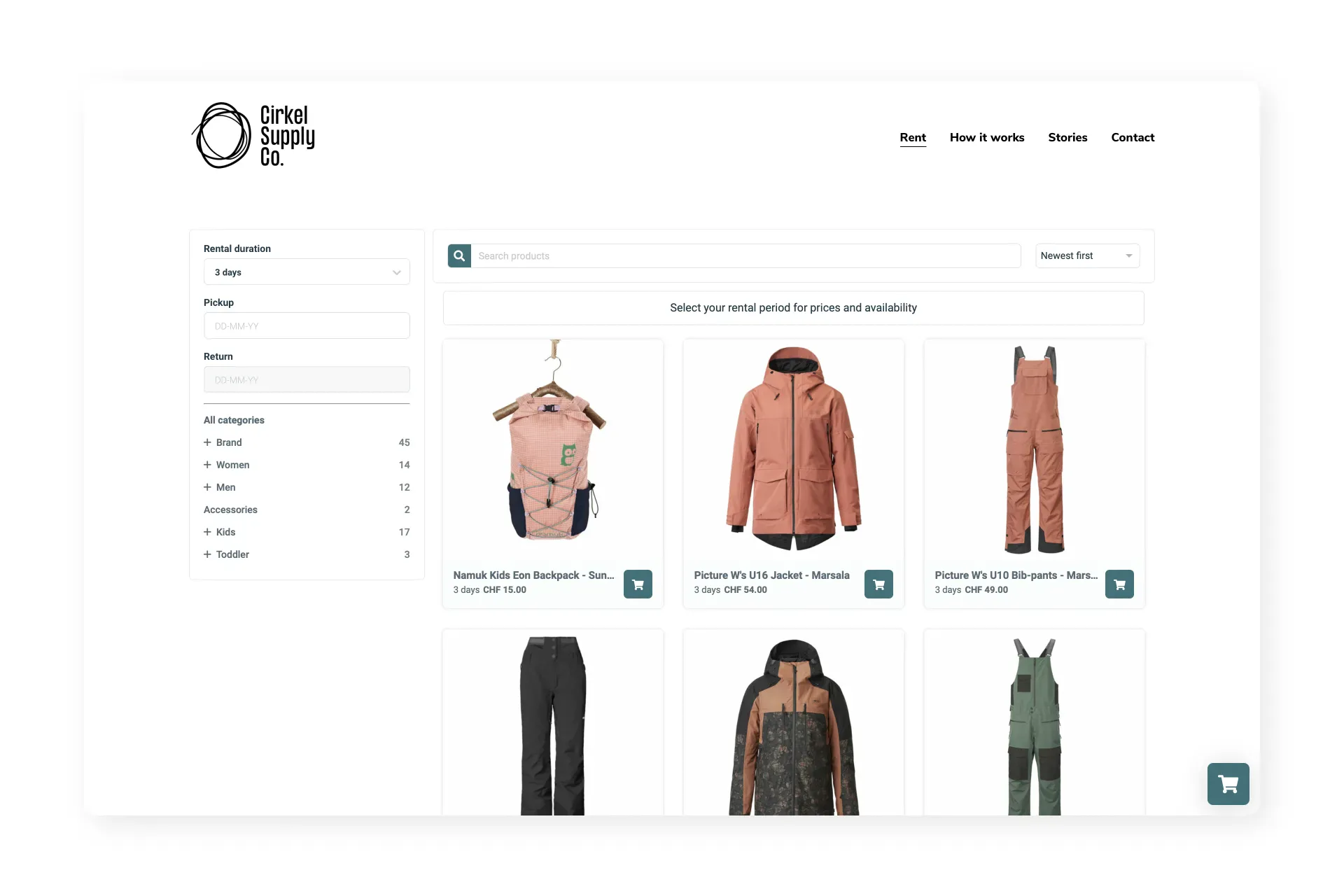 Creating an online rental platform
When Anders, Per, and Anna planned out how the business would operate, at the top of their list was having a customer experience that was easy and straightforward. This meant they needed a rock-solid backend that could smartly display premium products and provide all the critical info about their offering, so customers would feel confident when booking.
After checking out a few options, it was decided that Booqable provided the best e-commerce platform for rental and, eventually, resale. Neither of them is a tech expert, so the tool needed to be easy to navigate and set up for their big winter testing session. Booqable proved the perfect tool for this task and allowed them to test their MVP and scale up their offering.
They are confident that their products are displayed in the best way possible to ensure customers get a great online booking experience. Their Winter 21/22 testing showed that customers and partners found that the product information is well displayed, and it's easy to browse and find the products they need with confidence and ease.
Opening up year-round
Cirkel Supply Co. doesn't rely on consumers to make eco-friendly choices but instead drives positive change. They achieve this by focusing on high-quality products rented at a fraction of the cost of ownership. Their model is estimated to emit 76% less CO2 than linear retail sales by applying circular principles like rental, repair, and resale to keep items in use for longer.
Thanks to the success of their testing, they are now preparing for Winter 22/23 and plan to expand to offering rentals year-round. Their checklist for products is for them to be highly specific, light-usage, highly durable, and high-quality with a high retail price. This means outdoor gear for camping, mountaineering, hiking, and biking is perfect for offering.
The Cirkel team is committed to accelerating environmentally friendly consumer behaviors, so that future generations can continue enjoying and exploring the world we call home.